THE MOST POWERFUL TRIMMER HEAD ON THE PLANET THAT NEVER BREAKS, UNLIKE YOUR WIRE TRIMMER.
✅100 TIMES MORE POWERFUL THAN TRADITIONAL STRING HEADS
✅CLEANS BETWEEN BRICKS, DRIVEWAYS, WHACKS WEEDS & MORE
✅LASTS FOR YEARS WITHOUT NEEDING REPLACEMENT
✅FITS YOUR EXISTING TRIMMER
CAN YOUR TRIMMER DO THIS?
SUPERCHARGE YOUR TRIMMER IN 5 MINUTES💪
Indestructible Trimmer easily removes grass, moss, weeds, dirt, dust, and everything else you want to remove from your eyesight (and from your yard).
It cleans deep and won't let you down even after years of use, unlike your average string trimmer.
Removes dirt and weeds in seconds even in unapproachable areas, which makes it the new standard for trimming.
Indestructible Trimmer Is Perfect For: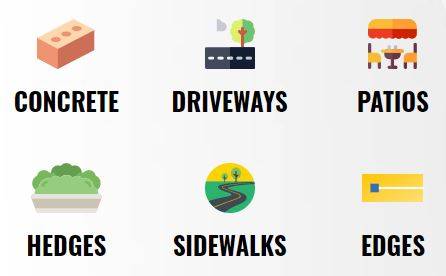 Indestructible Trimmer IS

EARTH-FRIENDLY
Did you know that plastic does not decompose?
You probably knew that by now with all the panic going around global warming and marine pollution.
All plastic that has ever been produced has ended up in the environment, including your used plastic trimmer strings.
Plastic never fully decomposes and is literally everywhere: in water, soil, and air.
What does that have to do with you trimming your lawn you must be asking?
Well, you are probably using so-called "trimmer strings" which are made of plastic. Weed whacking with plastic strings is a common practice these days.
It was invented back in the 1970s, and since then it has become standard and is now being used by approximately 90 million people.
Now, take a moment to think about the consequences of 90 million people using plastic strings every single year on global warming, air quality, and ocean life.
We are not saying you should give up on your string trimming habit completely, but what if you could be using a steel trimmer, say half the time?
Indestructible Trimmer is made of metal and unlike plastic strings, it doesn't need a replacement for years.
Chose smart and save the planet.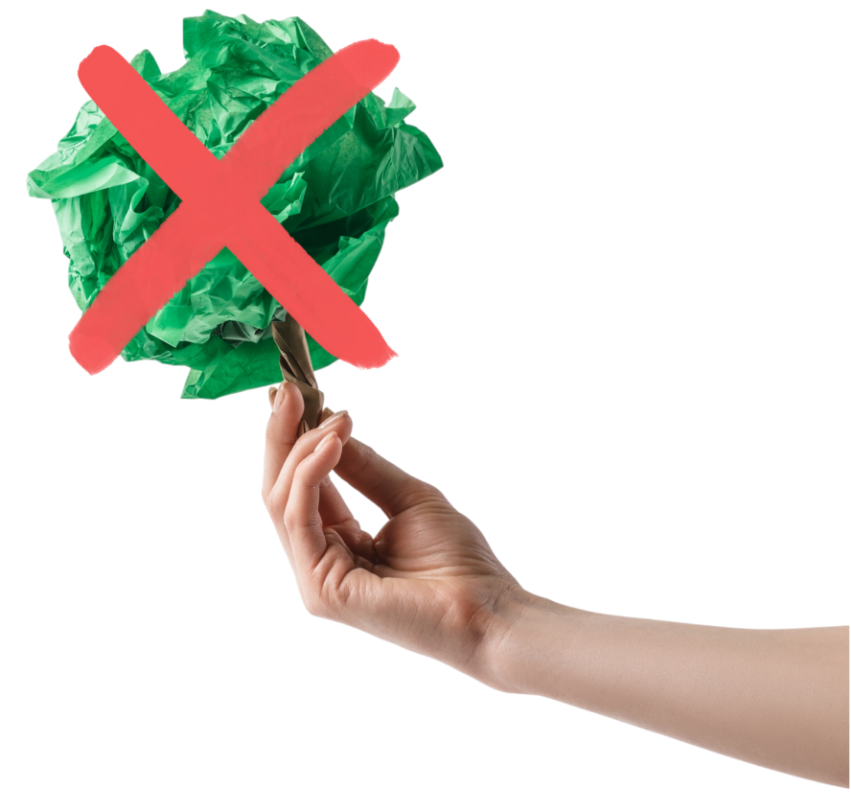 FEEL THE POWER OF METAL WEED WHACKING
String trimmers are relatively weak for the modern world.
You want your trimmer to be your friend, but it will betray you as soon you throw it at anything harder than some weed.
String trimmers are capricious and unstable, not to talk about the number of times you had to replace your trimmer line just to maintain its average functionality.
Trim Boss is designed to love the areas your string trimmer hates, and you don't have to replace it all the time because it's made of high-quality metal.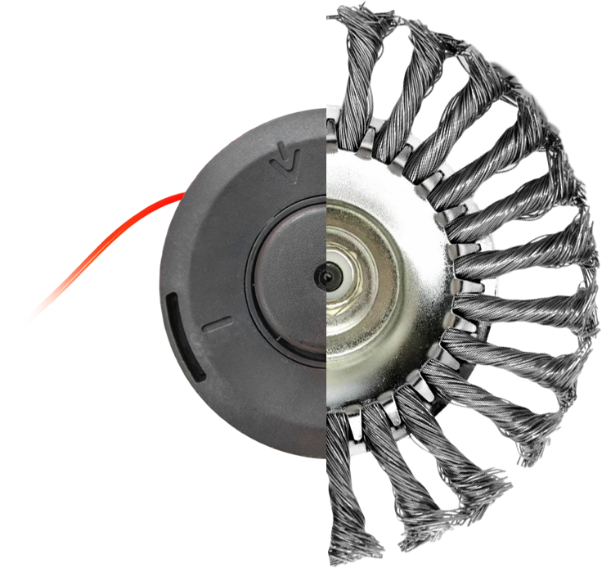 We have created a trimmer head that wins in all aspects. From superior performance to durability and reusability, Trimmer Boss has it all.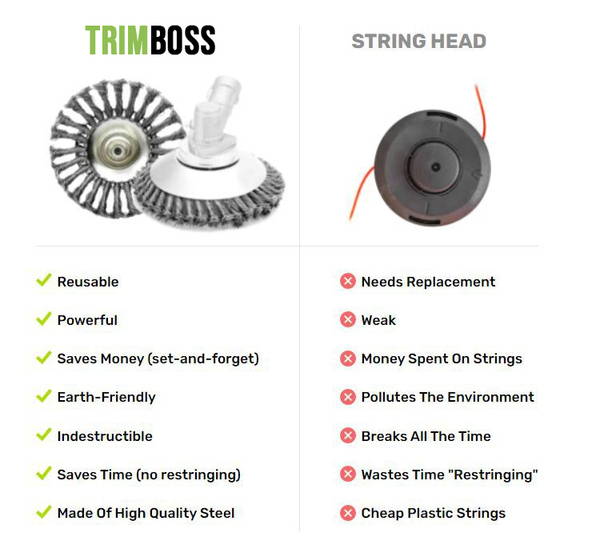 HOW TO ASSEMBLE: 
Assembly is quick and simple. It replaces your current string trimmer and lasts for years meaning less money spent and a cleaner, weed & dirt-free space. 
Please note: This is for demonstration only, and your trimmer may attach differently. That's why we send an adapter kit with your order.
Frequently Asked Questions
Will it fit my trimmer?
Our trimmer has a universal head that fits all trimmer models (Stihl, Echo, Worx, Black & Decker, Greenworks, Husqvarna & others). 
How long before I need to replace the head?
Indestructible Trimmer was designed to serve you forever thus you don't need to replace it.
Although in certain cases of heavy usage you might need to replace it after 3-4 years.
Will it cause damage to the affected areas?
An indestructible Trimmer doesn't cause any damage to the affected areas.
With that being said, Indestructible Trimmer can damage soft materials and wood so try to avoid using it on areas it shouldn't be used on.
Specifications:
Color: Silver
Material: Steel Wheel
Diameter: 6 inches
Package contains: 
6″ Universal Kit
Customer Reviews: